HOTEL D'IRLANDE
The Hotel Irlande proud of its immediate proximity to the Sanctuaries and the Massabielle Cave possesses an ideal location to make your stay in Lourdes most enjoyable.
Our hotel situated just 80 metres from St Joseph's Gate and adjacent to the Accueil St Frai is in a privileged position to commence your pilgrimage and your excursions.
For three generations the Didelin family have welcomed guests to this 3 star hotel managed on a very human scale with a family atmosphere and with every modern comfort.
The hotel boasts 68 rooms four of which have been designated for the disabled.
The restaurant with its characteristic and novel dishes will adapts it's menus to your customs and special diets. We would be delighted to serve you individually, as a couple, family or group in either of our two air conditioned restaurants in order to cater to your pleasure and requirements.
Pets are welcome and admitted in our establishment.
Please don't hesitate to contact us for any possible inquiry.
All 68 rooms offer peace, quiet and comfort and each has an en-suite bathroom and toilet, reversible air conditioning, High Definition television, electronic keycards ….
The Wi-Fi is free in all rooms and public spaces of the hotel.
We can also organise wake up calls for your busy days.
Lance Clarck
Nottingham
Thank you for a very nice stay. The hotel is full of character. The food is really good and the staff are so kind and friendly.
Peter Tanina NOOY
AUSTRALIA
Thank you It has been a great experience Wonderful admosphere.
News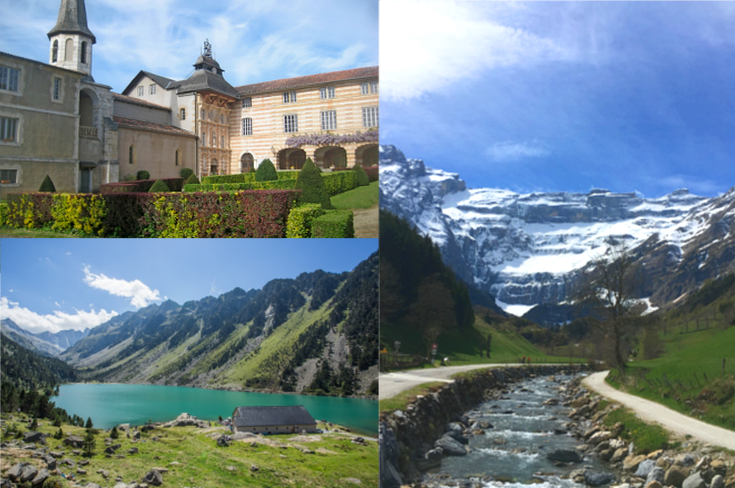 2022
Discover the Pyrenees on an excursion!
Fully experience the great natural, spiritual or cultural sites of the Pyrenees departing from Lourdes, on the occasion of a day or half-day.
Tuesday: full day (35 €) Journey to the heart of the Pyrenees
Discover the many riches of our Pyrenean heritage: a friendly market, a picturesque village, a gastronomic gem, the Cirque de Gavarnie.
Wednesday: half day (20 €) History of apparitions: from Lourdes to Garaison
Come and greet Mary in a unique and intimate apparition site before titillating your taste buds with traditional and regional monastic delicacies.
Saturday: full day (35 €) Gavarnie - Pont d'Espagne
Discover two of the greatest sites in the region through a trip to the heart of the Pyrenees which will combine grandiose landscapes and authenticity.